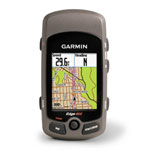 Firstly, I have to say that I really wanted to like this unit.  I'd put it off for a while because — at £250 (GBP) for the base model (plus street-level maps) — it was two thirds of the cost of my new fixed-wheel bicycle.  I'd had some great usage out of the old Garmin, my 205, but this offered extra benefits.
The extra benefits I liked:
Colour display
Expandable with micro-SD card – store lots of routes on it
(With optional routing): Full European road maps
When I first unpacked it, I was slightly disappointed to find that it's grown since the 205/305 days.  I remember likening the 205 to a small mobile phone.  The 605 is more blackberry size.  Just large enough to look wrong on the bike.  A minor point.
The display is great, so long as you have the backlight on.  It's hard to read without.
But here's the kicker for me… true to form, the Garmin software is quite oddly crap.  In this case, it's the navigation.  The unit will do navigation, but you wouldn't want to plan a ride with it.  It's slow and fiddly, and you have no control over which route you'll take.  I was sure I'd be able to make it do what I wanted to though!  Whip up a custom GPX route file with the Marengo Route Planner, upload it to the device, and follow that.
Er… no.  If you upload a route you want to follow, it doesn't direct you to your waypoints, it sends you down roads it thinks you should take to get to your waypoints.  Sometimes quite bizarre ones.  It tried to get me to do a U-turn on Chelsea Embankment, and take a couple of laps of Parliament Square.
It has the option in the settings of saying "don't follow road", and "navigate off-road", and turning off the street maps, but still it insists on taking me down the roads it knows are in the area.
It has other stuff, like training facilities, but, for me, the ability to plan a route, and following what you've planned is what I want.
Verdict: if you're like me, and you want to ditch the paper map, plan a nice route, and let a GPS unit guide you round it, then stick with the Garmin Edge 205.  The navigation facilities of the 605 might be useful, on occasion, if you're lost, but they're pants for planning a route.  Avoid.