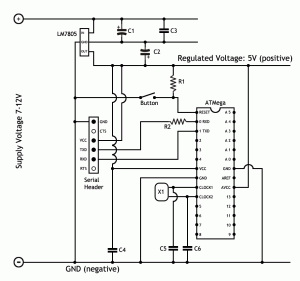 It was suggested to me that I should publish the actual circuit diagram of this project, together with a parts list. Here it is!
Stripboard, at least 23 tracks long and 14 holes wide
LM7805 voltage regulator
C1 & C2 – 100μF 25V electrolytic capacitor
C3 & C4 – 100nF ceramic disc capacitor
C5 & C6 – 22pF ceramic disc capacitor
R1 & R2 – 10K resistor
X1 – 16MHz crystal
Atmel ATMega168-20PU microcontroller*
28-Pin DIL Socket 0.3″ Pitch
Momentary make push button
6 pin female header (you may want to make this male) **
Hookup wire
* You could use a 328 rather than the 168 to give you extra capacity, it depends on the requirements of your application.
** As the board has no USB circuitry, to upload your programs you'll need a USB to serial FTDI adapter or cable, e.g. http://www.sparkfun.com/products/10008 – this is the one I'm using, I've soldered male header pins onto it so it plugs directly into the serial header on the circuit we've made.
Alternatively there are complete cables, e.g.: http://www.sparkfun.com/products/9718 or http://www.oomlout.co.uk/usb-serial-cable-33v-p-232.html?zenid=b3297f914547cb4f9649318b7a95cf9a – these have a female six pin end, which is why you might want the header on the board to be male instead of female.
–
If the circuit doesn't mean much to you, keep following the posts – all will become clear!
Next Post: http://www.martyndavis.com/?p=168